Can you believe this wonderful portrait is just a Rangoli design (sand art)? This hyper-realistic art is the skill of a Raipur man name Pramod Sahu. An artist who sticks to its traditions with a modern twist is giving us major Rangoli goals.
Hyper-Realistic art always excites me, art mixed with realistic details. It is simply amazing, but a Rangoli design that too with a fusion of hyperrealism. Wow! that surely is something to catch a charm of!!
Hyperrealism an Art Mixed with Rangoli Designs
An artist dedicated to his art is pure devotion and that is what Pramod Sahu is doing since his childhood. Culturist and also a social entrepreneur Pramod has developed passion in Rangoli designs in the age of 7. By the time he was 12, neighbors around him started inviting him for drawing Rangolis for Rs.5
As Rangoli is already stereotyped as for the female art Pramod here is breaking those typos by creating such hyper realistic art and mocking the people who call this beautiful art as the 'feminine job.'
12+ years of experience, mentoring 10,000+ students, and conducting so many workshops were included in his professional journey in the 19th World Festival of Youth and Students- Event in Russia in 2017 Pramod was the only Indian Rangoli artist among 28,000 youth got selected from 100.
Rooted with Traditions of Rangoli Portraits
After treasuring the awards, he also runs Chhapaak, an art institute that enlightens 8-10 children every year. More than 400 students were given the scholarship since 2014.
"The art school is to provide a platform to those who want to unleash their creative side in a way that will also help them earn in the future. I sincerely believe commercial viability is an integral part of any art. So, apart from strengthening their basics and then providing them with advanced courses, we also guide them towards lucrative careers."

-Pramod Sahu.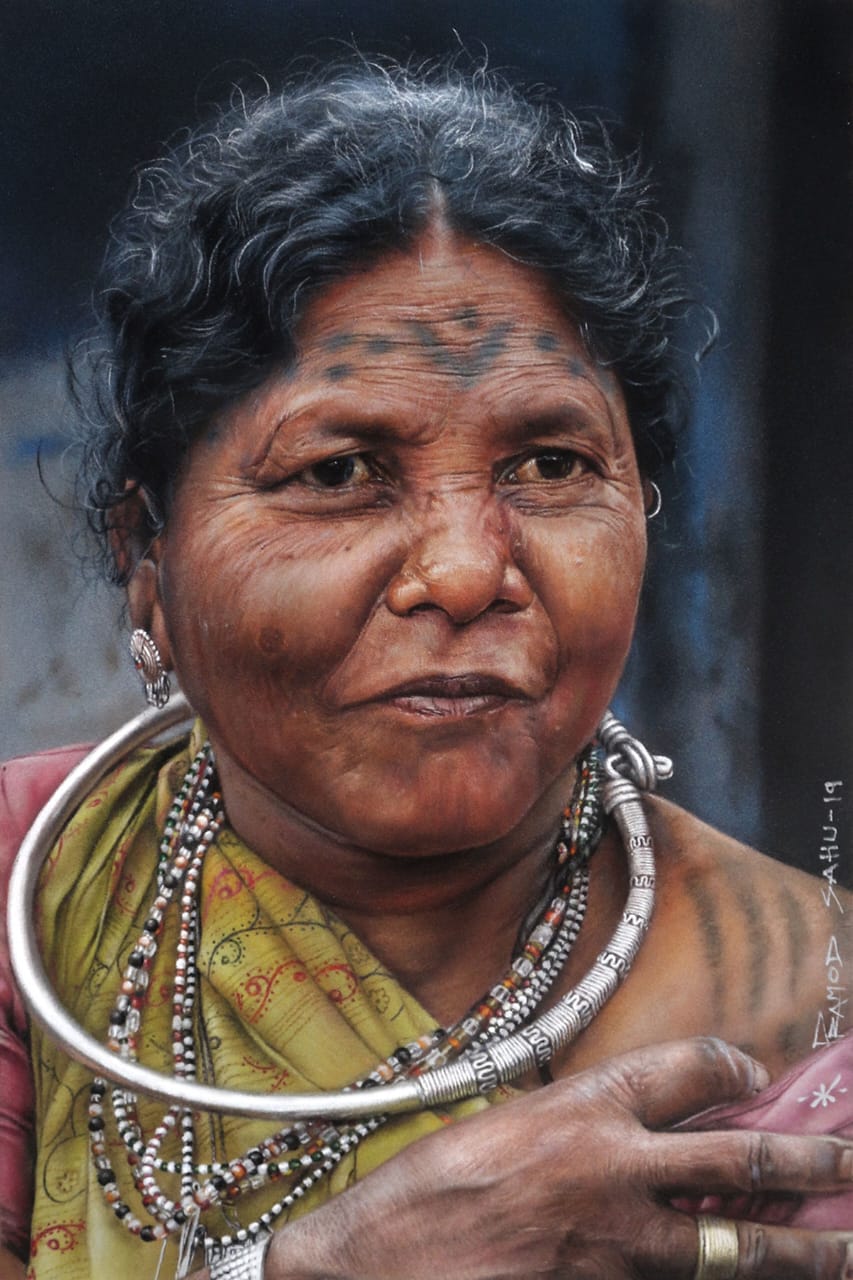 Pramod has also bagged in the awards such as- All India Platinum Award-2018, All India Gold Award-2017, All India Bronze Award-2015, Dr. A.P.J Abdul Kalam Rashtra Nirmaan Puruskar-2018 and many more to count.
In this Universe if something, not made by God!!! Absolutely made by an artist.

-Pramod Sahu.
Also Checkout
Rev Your Engines with Hyper Realistic Art
Artist Mixes Realism With Abstraction In Vehicle Paintings